Smelting Capacity Expansion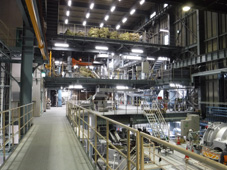 Nippon PGM Co. Ltd. (NPGM) has completed Phase 1 of the expansion project of its original state-of-the-art ROSE Process, by fully commissioning a new electric furnace and its peripheral installations, dedicated to spent autocatalyst processing.
As of November 2016, the new smelting furnace, in Akita Prefecture – Japan, is on a successful smelting campaign and completion of Phase 2 expansion is scheduled to be in Summer 2017.
Since its establishment in 1991, NPGM has acknowledged the importance of PGM recycling from spent autocatalysts and strongly believe that its importance will remain paramount. Therefore, we set our goal to increase our recycling operations.
We will continue investing in new facilities, by proactively increasing collection locations, not only in the Europe or North America but, in all over the world. We will also continue investing in new technologies compatible with changing materials and fully satisfying the needs of our valued customers in the future.
TOPICS

Specialization in PGM
Want to recycle your Precious Metals? Leave the recycling task to our the world renown state-of-the-art technology.

ROSE Process
Our specifically developed pyrometallurgical recycling technology allows exceptionally high precious metal recoveries, at a remarkably short time.

Fast & Precise Evaluation
Our well controlled, automated sampling systems assure the delivery of the most accurate representative samples from incoming material.

On-site material evaluation
With the establisment of US and European branches, reducing the costs and overall processing time is possible.

Combination of Top Class Technical Expertise on Smeltiong and Refining
Over a 100 year old expertise of our two parent companies lays the foundation of our advanced technology.
This technology creates highest recycling efficiency at no risk to environment, with zero pollution.

Contribution to Global Environment and Resources.
Used catalytic converters, from all over the world, are evaluated fairly and accurately. All valuble materials are processed to recycle valuble resources, all in our facilities.